Meet Our Team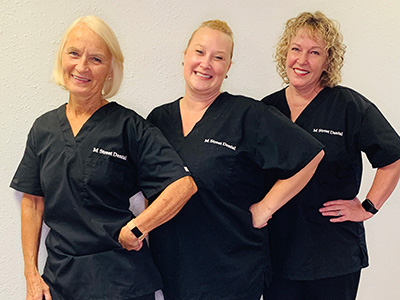 Dental Hygienists
Rembie, Dental Hygienist

Rembie earned a Bachelor of Arts degree from Washington State University and a Bachelor of Science degree in Dental Hygiene from Eastern Washington University. She has been treating generations of families at M Street Dental with caring and expertise for over 44 years. Needless to say, she has a big following of happy patients.

Rembie has been happily married for 48 years and has two children and four grandchildren. Her son is a firefighter/medic and her daughter followed in her footsteps as a Dental Hygienist at M Street Dental. Rembie has an admirable number of athletic pastimes, including running (sometimes competitively), swimming, golfing, and biking.


Kim, Dental Hygienist

Kim began her dental career at M Street Dental in 2000 while fulfilling her college prerequisites for Dental Hygiene School. She graduated from Lake Washington Technical College as a Registered Dental Hygienist in 2005 and has been improving the oral hygiene of her patients ever since, contributing a great deal of expertise and education to them. She is highly admired by the M Street Dental staff and enjoys working with the whole team.

Kim and her husband have two beautiful children and two German Shepherds. She makes family a priority and enjoys spending time with them and hanging out with her dogs. In her free time, she likes to tinker with home-improvement projects and read.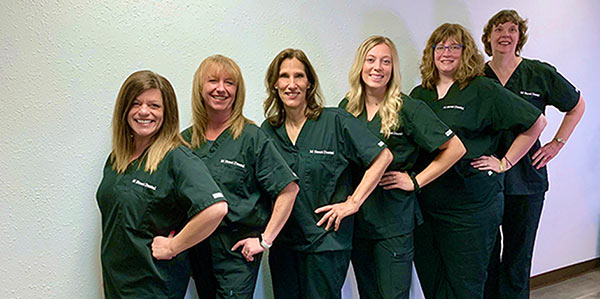 Dental Assistants
Elizabeth, Lead Dental Assistant

Elizabeth graduated from Highline Community College in 1997, earning her certification as a Registered Dental Assistant. After completing an internship at M Street Dental, Elizabeth was officially welcomed to the team and has been adored by patients and co-workers ever since.

She loves being a dental assistant and finds that the most rewarding part of her job is getting to know her patients and making their dental experiences comfortable. Her extensive expertise and caring consistently create a positive impact on patients. In addition to dental assisting, Elizabeth devotes remarkable energy to creating the best environment for patients and co-workers by continually improving on office operations, organization, and team building.

She is a mother of three wonderful children and loves every moment with them. Her favorite part of motherhood is seeing her children develop into compassionate, caring, and good-hearted people that treat others kindly. As a family, they enjoy road trips, spending time at lakes, playing games, laughing, and listening to music.


Linda, Dental Assistant

Linda graduated from Sumner High School and continued her education at Bates Technical College, where she completed the Dental Assisting Program and earned her certification as a Registered Dental Assistant. Linda always brings her A game to the office and brightens the day of her co-workers and patients with her enthusiastic spirit and nurturing chairside manner.

In her free time, she enjoys spending time fishing, camping, and boating with her family, including two children, six grandchildren and her husband of 25 years.


Maggie, Dental Assistant

Maggie graduated with her certification in Dental Assisting from Clover Park VTI and has been assisting for over 30 years in general dentistry and orthodontics. She often tells people, "It started out as a job, and turned into a career!" With Maggie's deep background in Dental Assisting, her wisdom is not only valued by patients, but also by her team members, who appreciate her as a great resource and team player.

In her free time, Maggie enjoys paper crafts, cooking, and spending time with her family and three cats.


Lisa, Dental Assistant

Lisa graduated from Auburn High School in 1981 and furthered her education at Highline Community College, where she completed the Dental Assisting program and earned her certification in Dental Assisting in 1986. For over 33 years, Lisa has welcomed patients to M Street Dental, where her experience and her bright and cheery chairside manner helps put them at ease.

Lisa enjoys spending time with her husband and their two Cavalier King Charles Spaniels. Lisa's hobbies include scrapbooking, puzzles, and all things Disney.